[Album Review] Niji no Conquistador - Rainbow Phenomenon
5yr ago · Friday 27 Apr, 2018 - 04:19pm UTC ·
LSH2016
· 1 upvote · 0 comments · 465 views
This is a community contribution written by
LSH2016
The views expressed in this publication do not necessarily reflect the views of JpopAsia.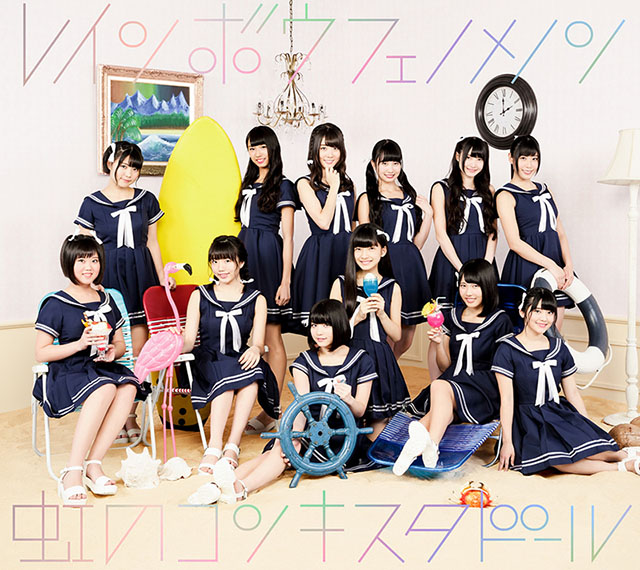 Nijicon shows us in its major debut the best in the classic "idol group formula": contagious songs, bubblegum chorus, choreography, colorful clothes, many girls. The twelve songs from "Rainbow Phenomenon" are an invitation for Niji in the Conqueror to take you on a journey around the fantasy paradise.
After a short introduction, the album opens with the electric and explosive "Kimi wa Mujakina Natsu no Joou", which features a Hard Rock arrangement with slap bass, blast beats, dempa style and a contagious rhythm that goes until the "Ending Apotheosis". "No Life Baby Of The End" follows almost the same style, but this time it incorporates the horn section, and the "Desperate" version that closes the album has a more rocky arrangement, with no horns and more sinister than the original.
"Natsu no Yoru wa Mijika Sugirukedo" breaks the festive mood, so they show their provocative side. Then, try to give at least one chance in "Love Men Koi Aji Yawame" and "Retort". "Jump!" (it's not Van Halen's song), could be the opening track, but it also matched perfectly with the (almost) closing of the album.
Niji no Conquistador is an idol group that has been growing not only musically but also nationally. With only four years of activity, he gained media attention not only by the graduation of members Nonoka Okumura and Emiri Suyama (who graduated days before the album's release) but also by Nagi Nemoto and Rin Kaname being promoted to competing position in Dempagumi. inc, replacing Moga Mogami.

Now with Nijicon being managed by Dearstage (besides belonging to King Records), we hope that the next step is at least a chance for the group to show off their talents, as has Emiri Suyama, who graduated from Nijicon to pursue a career as a voice actress, and is currently in Beatless.
Nijicon's upcoming single, "Bathroom Magic" is set to be released on April 29, exclusively on King Records eShop.
Rating: 8.0 out of 10

Review by Diego Castanho (Legendary Supersonic Hero). Agree or disagree? Let us know below, or send the author a tweet @diegocastanho to let him know your opinion.