Profile
Stage Name: Kamiki Aya (上木彩矢)
Real Name: Tsukada Ayako (塚田綾子)
Birthday: September 10, 1985
Birthplace: Hokkaido, Japan
Blood Type: B
Inspirational Artists: Diana Ross, Mariah Carey, Whitney Houston, Michelle Branch, Avril Lavigne
Groups: Uroboros (2015-present), SONIC LOVER RECKLESS (2017-present)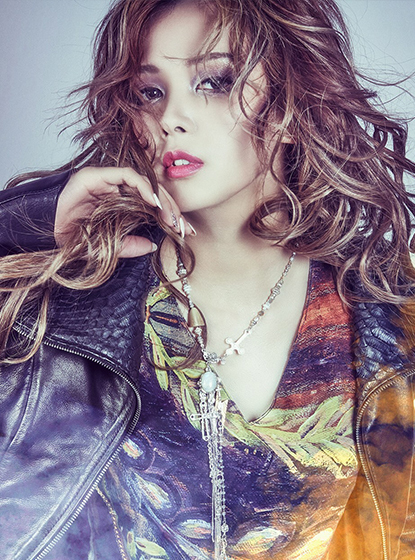 Information
Kamiki Aya held her first live while she was in junior high school and has been performing since a young age. Because of her love of punk rock, she learned the guitar which she incorporates into her music. Though she has only recently debuted as a major artist, she has been performing as an Indies artist for longer. She made her debut onto the music scene in 2003 with the indies single, Breath under the stage name Kurimu (久里夢). Eight months later she released her first indies mini-album, W.H.Y? under the same stage name, but spelled differently, KLIM (久里夢).
In 2005 she went on the release two more indies mini-albums, but this time under her actual name. She signed with the major label GIZA studio in 2006 and debuted with the single, Communication Break. Over the next two months, she released two more singles, and then came to the release of her debut full-length album, Secret Code which made it into the top 10 on the Oricon. She also has been appearing in the magazine Kera since late 2005.
Early 2007, Kamiki was one of the winners of the 21st Golden Disc Award's New Artist of the Year.
In July 2006, Kaming, her official fan club, was created; however, when Kamiki changed labels to avex trax in July 2009, the fan club disappeared.
In 2011, Kamiki announced on her official blog that her album THE FINAL JOURNEY is her own "FINAL JOURNEY" under avex trax before returning to indies market, stating "rather than stop making music" she wants to "start making music with a stronger soul".
Fall 2012, she is involved in the famous musical project RENT where she played the role of Maureen. No longer after she is announced to play the character of Roberta in the Japanese adaptation of Zanna.
Summer 2015, Kamiki formed UROBOROS with other 4 musicians and compositors. She is a vocalist of this band. In 2017, she and Guitarist Miyako formed the band SONIC LOVER RECKLESS. The first Single came out in September 2017.
Kaming is the name of her ex-official GIZA fan club.