Howdie ho! How are y'all doing? It's been a month! How dare I take such a hiatus from writing journals! I'm sure you all missed my wonderful ramblings (or not which is cool too) So I know I promised an update journal like 2-3 weeks ago but ScReW that! For now at least... because I got exist†trace's WORLD MAKER album! So as you guys can probably can guess I've been obsessing over it since I got it! So I thought I'm gonna talk about it! This isn't a review per se because let's face it I don't know much about the technicalities of music and I don't pretend to so instead of calling it a review I'm calling it a rambling~ Also other people do reviews on here and I want to be different dammit!

So first here's a picture of the album and the other merch I got: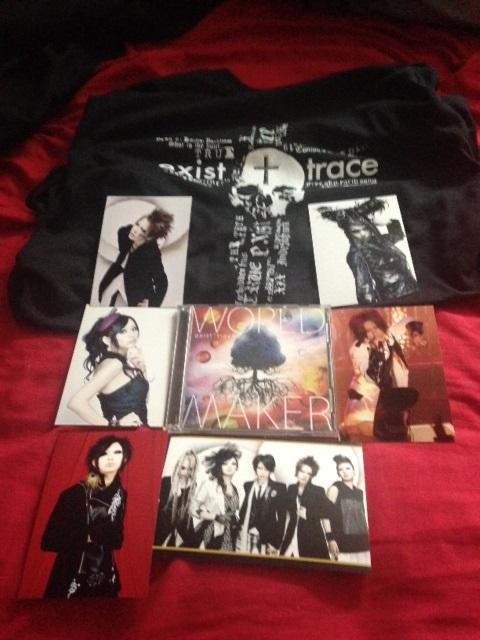 NightGAZE AT IT'S GLORIOUSNESS!
lol anyways I'll get to the part y'all are waiting for! My thoughts on the album~ Before I talk about the songs I'm going to say I really love this album personally I think it's their best work~ And I am aware a lot of people don't like the new exist†trace or Miko singing and everyone things that they've become a pop band and blah blah blah but I have to say I love the direction that they're going in~ Personally I like seeing a band stretch outside of their comfort zone and try new things and in this album exist†trace proves that they can still rock as you will see later on in this rambling~
Track 1: WORLD MAKER- Leading off the album we have WORLD MAKER which is a fantastic opening track! It's a really nice light rock song where Miko and Jyou's voices resonate extremely well together with amazing instrumentals~ And the PV looks beautiful~ Those who've seen the preview should have an idea of what the video is like but the full version gets even more awesome with them standing on the sun at the end~ And as for the lyrics the fanclub gave out a special lyric card that had the translation for the song and I must say I love the meaning behind this song~ Basically it's about being yourself and not letting anyone stand in your way which is a great message and I totally believe in that 100%
Track 2: DIAMOND- You should know what I think of this song by now with my review on the single and the fact that this was my favourite song of 2013~ What more do I need to say?
Track 3: Spiral Daisakusen- I already went over my initial reactions to this song when the PV was released so there's not much more I can say other than that this song gets way too much hate and I think it's a fun song~ And I've been trying to translate the lyrics (if anyone wants to help me edit that that would be great!
) but from what I got so far it's kind of about love being a waste of time or something like that~ It's a work in progress~
Track 4: JUST ONE- Again I've said all I need to say about this song in the DIAMOND review and it was on my "Top 15 songs of 2013" list~
Track 5: Imagination- So this is the first song that Jyou wrote on her own and it's a really fun track! However this song doesn't stand out to me as much as the other songs on this album for whatever reason~ Not to say I don't like this song but it just doesn't stand out but I think it really does encompass a live feel which is really great and that was the goal exist†trace had with this album so I guess we can call that a success ne?
Track 6: FEEL- HOLY DONKEY ON A UNICYCLE is this song sexy! This song opens up
with Miko singing and man does she sound seductive! It's so alluring and sounds like she's calling the listener into her sexy world
And chorus, which is in English by the way, is so sexy! (is there another word for sexy? idk
) And I can only imagine what Jyou fanboys feel when they hear Jyou singing "I feel you inside me" because I know if Miko sang that part I would not be here rambling about this album because I would be dead~ And the song is a really slow hypnotic which accentuates that feeling of sexiness~ So basically this is the fan service song and as you can probably guess it's one of my favorites
Track 7: SHOOTING STAR- This is one of my favourite songs on the album! It's another fun sounding song but this time with a cabaret/jazzy feel~ This song really makes you want to get up and dance and sing along~ If only I were fluent in Japanese I wouldn't have to sing along in this song with gibberish "SHOOTING STAR aljldf;sfdk HUMAN LIFE" <------ Basically how me singing along to that song goes... anyways... I love this song and when I saw it live on their livestream in July I knew this song was going to be a favourite of mine
Track 8: Antique Doll- I feel like this song is one of their more underrated tracks because I'm sure a lot of people didn't give the other songs on Spiral Daisakusen a chance because of the lead single not being a "fan favourite" but this is one of the tracks that proves that exist†trace has that rock spirit in them! For some reason this song always reminds me of their TWIN GATE days and I'm not entirely sure why~ Maybe it's the song title
But I have to say the drum solo in this song is killer- short- but killer and the chorus is very powerful
Track 9: Kuchibiru- I don't have much else to say about this song that I didn't say in the DIAMOND review other than that I appreciate this song a lot more than I did back when it came out~
Track 10: RAZE- For those of you who say exist†trace is a pop band I challenge you to listen to this song and tell me that~ I mean Jyou brings her growling back! What pop artist growls? None of them! This song is a perfect mix of their old and new sound! You have the aforementioned growling from their Recreation eve days and Miko's singing from their newer sound and the chorus is beautiful with Jyou and Miko's dual vocals! And the instrumentals lead by Mally's aggressive drumming make this an amazing headbanging track! And I looked up the definition of "RAZE" and it means "destruction" and I couldn't think of a better title for this song! But I need to ask... How do they know this advanced English words that even I, someone who has spoken English for their whole life doesn't even know!
Track 11: Negai yume wo owari ni- So as I was waiting to listen to this album I saw a lot of people mentioning this song on twitter so when I got the album I was excited to hear this song so I could see what the hype was all about~ And I wasn't disappointed! This song is one of their most beautiful ballads since Cradle! Jyou and Miko's vocals are so gorgeous in this song! And this is the song where you can really hear the improvement in Miko's voice it's so relaxing and emotional! And as a lot of you know by now I don't really like slow songs that much so for me to like a slow song really says something~ This song deserves the hype it gets especially with the addition of the piano into and outro~
Track 12: VOICE- And closing out the track we have this nice rocking track~ It's very upbeat with a really catchy chorus honestly I don't know how to describe this song it almost leaves me speechless and it's a song you definitely experience to understand how amazing it is! It's truly a great song to close out the album with!
So that was my ramblings of exist†trace's WORLD MAKER album I would give it a solid 9/10 I truly love this album! The only faults I find with it are very minor my only real complaint is the fact they put every song from DIAMOND on it so as someone who bought the LE of DIAMOND it kinda sucks~ But at least I have the Jyou/Miko only versions of the songs and the PV so I guess it's not to bad
So have you guys listened to WORLD MAKER? And if so what are your thoughts on it? And for those of you who are deciding whether or not to buy the album I would say definitely go for it! Especially if you're in the fanclub because you get it at a discount~ But if you're not part of the fan club CDJapan has the limited edition on sale for 30% off which is about $29 Canadian so that's about $26 American which is a fantastic deal for a LE if you want it~ But the sale ends on the 30th so act fast!
And I'm not paid by CDJapan, Archangel Diamond, or exist†trace to promote them but if they want to give me money to do so I'll take it

Anyways I'm rambling too much~ Let me know what you think of the album in the comments! And also let me know if I'm good at reviewing because if you guys think so this may become a thing I don't know~
Anyways until next time.... Bye guys!
~Nightgaze~ · close