The world of Asian Music is sooo BIG...
But if I have to choose then...
Fahrenheit
So, I decided to watch Taiwanese version of HanaKimi and loved it :RBheart: I looked up information on main cast and found out that Jiro and Wu Chun are in the same band :RBhalo: I listened to Chu Shen Ru Hua, :lovec: fell in love with it... And now I am totally crazy about them :nod:
KAT-TUN
When I understood I like japanese music, I wanted to find some great band and my friends on the forum suggested I check out Kat-Tun :high5: Thank you very much, guys :giggle: Oh, their songs Moon, Pierrot, Rescue, Sadistic Love...and so on are :RBheart: I'm always listening to them :laughing: (especially great is Rescue MV :RBohNo: the dance moves :boogie: )
Kanjani8
One great person gave me a link on youtube to Naniwa Iro wa Bushi video :shocked:
That was it for me :no: Now my mp3player is filled with their songs :lovec: Great enka sound
I would also recommend listening to Misetekure, Kanfuu Fighting, Kiss,... :RBkiss: :RBheart:
Arashi
Once upon a time I was watching Maou :RBhot: And I said: "Wow, Ohno Satoshi is soo cool :lovec:! And the opening theme is amazing! :nod:" Now in my music folder there is one folder called Arashi :embarassed: Thank you Truth and Crazy Moon PV
Orange Range
I think I should have probably placed them first on my list, since it's thanks to them I'm addicted to Jmusic :giggle: Hanazakari no Kimitachi e opening song Ikenai Taiyo made me fall in love with asian music :crying: Arigatou!!! :RBohNo: I think their songs are full of energy and make me feel all active again, if I'm tired :nod:
NewS
I honestly don't remember how I got their song on my playlist :RBfrown: , but Teppen was already there, when I just got interested in this band
Since I really like Ikuta Toma, I was reading about him and saw that his best friend is Yamapi, who sings in a band called NewS... :RBstickout: Now there is more than just Teppen on my playlist :laughing:
Hey!Say!JUMP
Mmm.. It was just a random search that lead me to them
I really like their PVs :RBstickout: Mayonaka no Shadow Boy and Your Seed are so cool :lovec: I like singing along to them :RBhot: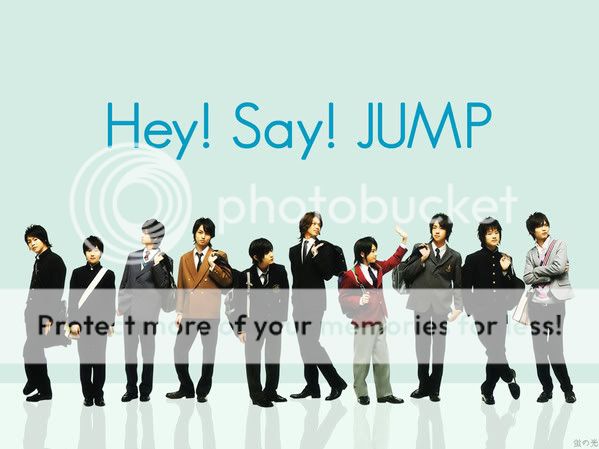 Lollipop
Heh :RBhalo: It's what watching Brown Sugar Macchiato has done to me :shocked: After that I could only say Wang Zi :lovec: for a few days :no: awful, awful, awful :RBblush: And that not so long ago released 'I Am Legend' is soo cool, really hot :RBohNo:
Big Bang
I just can't keep on writing about japanese and taiwanese stars :madc: What if korean ones would feel left alone?! :RBcrying: I got to know this band on JPA :high5: Thank you so much :RBhalo: Their sound just boosts my mood :boogie: All of their PVs are so professionally made :RBheart: I always feel like dancing :boogie: while listening to them. And I can't not mention that TOP is HoT :RBhot: :lovec: My current favourite song is Haru Haru :RBcrying: :crying:
DBSK
Just once I wanted to hear how Korean sounds, so I searched for popular korean bands and they were the first onces on the list :laughing: I find their sound refreshing :sneeze: yeah, true... I didn't see much of their PVs I think :embarassed: hm.. or they just didn't fell into my mind, but I do enjoy listening to them :lovec: Rising Sun is an amazing song, I never get bored of it :jangel:
Super Junior
Finally the last band I'm gonna add for now, but definetly not the least important:wink:. Then again thank you JPA for introducing me to this band :nod: I love songs Happiness and Sorry,Sorry...
But nothing is better than Rokkugoh, since no matter what mood I'm in, I start laughing just hearing the first 5 seconds :laughing: