1. Favourite band member
Shou, always and forever.
2. Favourite song
I have a lot. But Fantasy always gets me butterflies in my stomach.
3. Favourite pv
Haven't seen any of their new PVs since Sleepwalker, so hmm... Velvet, I guess.
4. Favourite live performance
The one where they played Q. in red suits.
(All the photos are picked from my old Photobucket collection.)
5. favourite group photo
Visual kei, baby.

6. favourite Saga photo
Ummm.. gif?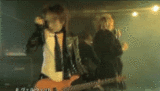 7. favourite Tora photo
Ummm.. Tora and Saga moment?

8. favourite Hiroto photo

9. favourite Shou photo

10. favourite Nao photo

11. Things you like most about Alice Nine
Their musicality, they work hard, they're genuine, and they honestly care about their fans.
12. Things you don't like about Alice Nine
Rabid fangirls.
I like talking to myself.